It's 9pm on Friday night. You've had a long week but you're ready to spend the rest of the evening writing some kickass content for your website. You open up your website and it's then you see this.

You resist the urge to panic and get in touch with your hosting company to ask them what's going on.
Your site was hacked and they hackers deleted it – I'm sorry. If you send us a backup we can restore it for you.
Holy shit. They deleted it? Your heart sinks as you realize you've no backups of your website whatsoever. It's gone. It's all gone. Your Friday night just went to shit as you being to ponder what the hell you should do now.
Accept your fate – at some point your online systems will fail
If this has ever happened to you take some small comfort in that you're not alone. If you spend long enough running websites it's only a matter of time before:
You suffer from some form of hack or attack (we'll come back to that next week) and
Your website will suffer from some form of data loss
Sure you can try and (and you should) protect yourself from both but in some way these are both nearly inevitable at some point. The web is a fragile and hazardous place at the best of times. Hell, your hosting company could go bust in the morning and take your website offline with it.
Preparing for the worst
If you accept that really bad things can happen to your website, then it's time to get your ass in gear and plan accordingly. When planning for the worst, there's no such thing as being too paranoid about the kind of things that can go wrong. My advice is to work from the assumption of a catastrophic failure of your hosting company leading to 100% data loss. If you can recover from that you can recover from pretty much anything.
Let's get stuck in.
Recovering from a catastrophic failure of your hosting company
Let's just tease out what exactly a catastrophic failure of your hosting company would mean shall we?
Your website is gone
Your hosting company has backups for you? They do? Great! Pity they just went out of business and the data has been destroyed accidently in the confusion.
Your can't re-setup your WordPress via your control panel becasuse, well yes, your hosting company has just gone bust – so you'll need a new webhost.
Never EVER register a domain name with your hosting company
In the event that your hosting company goes bye bye you better pray you didn't register your domain name there too. You should always keep your hosting and domain name services separate so in the event of some major dispute or failure you can quickly switch hosts. If your domain name is controlled by your hosting company you could be screwed.
What exactly do we need to ensure our backup policy actually works?
To summarize, we need to work from the assumption that our webhost can have a complete and utter failure at any given time and that we should be prepared for same and have a process and procedure for dealing with this scenario with the minimum of fuss. So to that end what do we need?
We need some way of backing up all the moving parts of our WordPress website including the WordPress core files, themes, plugins, the WordPress database – basically every single artifact that together make up our website.
We need somewhere to store these files and data remotely and securely.
We need a reliable service that will keep these files up to date automatically on a regular basis once it has been setup correctly.
We need a simple and straightforward process for restoring our website from this remote location should the worst happen.
We need to actually test our backups to ensure all of the above actually fucking works. (And yes there are plenty of cases where people with the best laid plans have been destroyed because they didn't actually test their backups).
Thankfully there are now a range of services that have emerged over the past few years which cover pretty much everything we need. Let's take a look at a few of the most well known and trusted services.
1.) VaultPress

VaultPress is probably the most well known backup service for WordPress as it's own and operated by Automattic itself. VaultPress is highly recommended as it's an extremely well-made product – which we have come to expect from Automattic. In addition to real-time backups (on the Premium plan), VaultPress also includes Spam protection and Malware scanning (Premium plan). Prices range from $55 – $299 per year. VaultPress has a stunningly simple restore process. Personally, I think they could do with improving and simplifying the pricing page and perhaps remove some of the entry level plans to reduce the scope for confusion when signing up – but I'm just nitpicking now 🙂
VaultPress is particularly excellent for non-technical WordPress users who want an end to end offsite backup solution for WordPress. The only disadvantage to VaultPress for me is that you still don't have direct control of your website data – which can be very useful for those who already have their own offsite cloud storage. Let's look at another excellent option that let's us integrate with our own cloud storage.
2.) UpdraftPlus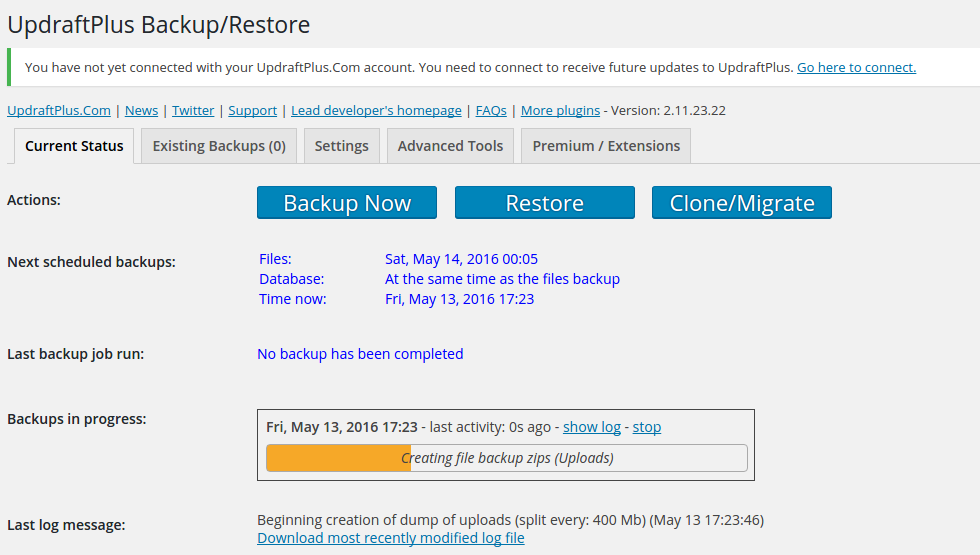 I'm a pretty heavy Dropbox user – almost everything I create ends up in Dropbox at some point. So having a backup solution that allows me to push my WordPress data into Dropbox is vital. (My Dropbox account is also syncd to my own local NAS, so getting my WordPress backups into Dropbox also gets my website backups into my local NAS – which is ultimately where I want them along with my cloud backups).
The best plugin I've across for integrating with tons of cloud storage options is without a shadow of a doubt UpdraftPlus. While I generally don't recommend relying on a free solution for offsite backups, UpdraftPlus is a bit different as I'm already paying Dropbox for tons of storage space and the free version of UpdraftPlus is excellent. I've since upgraded the premium version which gives me a ton of other stuff like retention strategies which can be really useful for fine grained control over exactly how many copies of backup are kept of your website. So in addition to excellent Dropbox integration I love the granular control I get to setup my backup strategy just the way I want it with UpdraftPlus Premium.
Other highly recommend WordPress backup plugins
I personally love both VaultPress and UpdraftPlus. Here are some other plugins that come highly recommended in the WordPress community:
BackupBuddy – from Corey and Co over at iThemes – this is a very popular plugin. I'm not a massive fan but it has a very large and loyal following.
BlogVault –  increasingly popular backup solution.